The SSD market presents consumers with a dizzying array of choices. With constantly fluctuating prices and new models hitting the market every few weeks, it's hard to keep track of everything.
Toshiba/SanDisk 3D NAND is finally ready for primetime, with the introduction of their third generation design that increases the layer count to 64. Intel's 64-layer 3D NAND is also now shipping. The deployment of this new generation of NAND flash technologies is still very much a work in progress, but there are already a few products on the market that are definitely worth paying attention to.
September 2017 SSD Recommendations
Market Segment
Recommendations
Mainstream 2.5″ SATA
Samsung 850 EVO
500 GB @ $149.99 (30¢/GB)
WD Blue 3D / SanDisk Ultra 3D
1 TB @ $284.99 (28¢/GB)
Small and Cheap SATA
Crucial BX300
120 GB @  $59.99 (50¢/GB)
Entry-level NVMe
MyDigitalSSD BPX
256 GB @ $114.99 (48¢/GB)
Intel SSD 600p
1 TB @ $319.99 (31¢/GB)
High-end NVMe
Samsung 960 EVO
1 TB @ $467.00 (47¢/GB)
Samsung 960 PRO
2 TB @ $1204.99 (59¢/GB)
M.2 SATA
WD Blue 3D M.2
1 TB @ $319.99 (32¢/GB)
Above are some recommendations of good deals in each market segment. Several of these aren't the cheapest option in their segment and instead are quality products worth paying a little extra for.
The next table is a rough summary of what constitutes a good deal on a current model in today's market. Overall prices are not expected to drop significantly over the next few months, so if you find a drive selling well below these prices, it's probably a good deal.
September 2017 SSD Recommendations: Price to Beat, ¢/GB
Market Segment
128GB
256GB
512GB
1TB
2TB
Mainstream 2.5″ SATA
50 ¢/GB
37 ¢/GB
30 ¢/GB
28 ¢/GB
27 ¢/GB
Small and Cheap SATA
44 ¢/GB
34 ¢/GB
29 ¢/GB
 
 
Entry-level NVMe
62 ¢/GB
47 ¢/GB
39 ¢/GB
32 ¢/GB
 
High-end NVMe
 
 
47 ¢/GB
47 ¢/GB
59 ¢/GB
M.2 SATA
52 ¢/GB
38 ¢/GB
29 ¢/GB
27 ¢/GB
 
As always, the prices shown are merely a snapshot at the time of writing. We make no attempt to predict when or where the best discounts will be. Instead, this guide should be treated as a baseline against which deals can be compared. All of the drives recommended here are models we have tested in at least one capacity or form factor, but in many cases we have not tested every capacity and form factor. For drives not mentioned in this guide, our SSD Bench database can provide performance information and comparisons.
Mainstream 2.5″ SATA: Samsung 850 EVO, WD Blue 3D/SanDisk Ultra 3D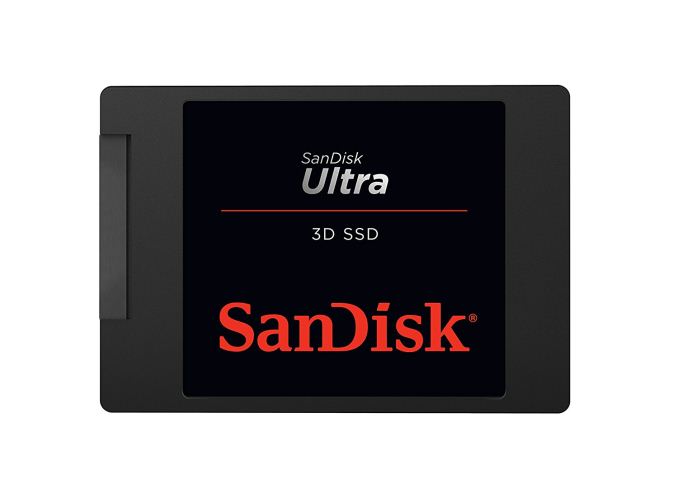 The largest segment of the consumer SSD market is 2.5″ SATA drives intended for use as either the only storage device in the system, or as the primary drive holding the OS and most programs and data. This market segment has by far the widest range of choices, and virtually every SSD brand has at least one model for this segment.
These days, the best options for a mainstream SATA drive are all at least 240GB. This is large enough for the operating system and all your everyday applications and data, but not necessarily enough for a large library of games, movies or photos. Our recommendations in this segment now all use 3D NAND flash. Older models using planar NAND tend to be much slower if they use TLC, and either more expensive or hard to find if they use MLC.
Buy SanDisk Ultra 3D 2TB on Amazon.com
| | | | | |
| --- | --- | --- | --- | --- |
|   | 240-256GB | 480-525GB | 1TB | 2TB |
| Samsung 850 EVO | $99.99 (40¢/GB) | $149.99 (30¢/GB) | $327.99 (33¢/GB) | $697.99 (35¢/GB) |
| WD Blue 3D NAND | $94.99 (38¢/GB) | $164.15 (33¢/GB) | $309.99 (31¢/GB) | $619.99 (31¢/GB) |
| SanDisk Ultra 3D | $99.99 (40¢/GB) | $166.74 (33¢/GB) | $284.99 (28¢/GB) | $549.99 (27¢/GB) |
| Crucial MX300 | $92.99 (34¢/GB) | $149.99 (29¢/GB) | $279.99 (27¢/GB) | $549.00 (27¢/GB) |
| Crucial BX300 | $87.99 (37¢/GB) | $144.99 (30¢/GB) |   |   |
| Intel 545s | $99.99 (39¢/GB) | $209.99 (41¢/GB) |   |   |
The Samsung 850 EVO is of course still one of our top recommendations for a mainstream SATA SSD. It is now being challenged on both price and performance by several other 3D TLC drives, most notably the WD Blue 3D and SanDisk Ultra 3D. The Crucial MX300 is still usually the cheapest SSD in this segment, but the WD/SanDisk 3D NAND SSDs perform better under pressure and are only slightly more expensive at the higher capacities. Since they're relatively new to the market, they might still drop in price over the next few months and undercut the MX300.

The Intel 545s has very promising performance, but pricing and availability are still a bit of a problem—no more than half of the SKUs have launched so far. This could easily change over the next few months as Intel's production of 64L 3D NAND ramps up.
Small and Cheap SATA: Crucial BX300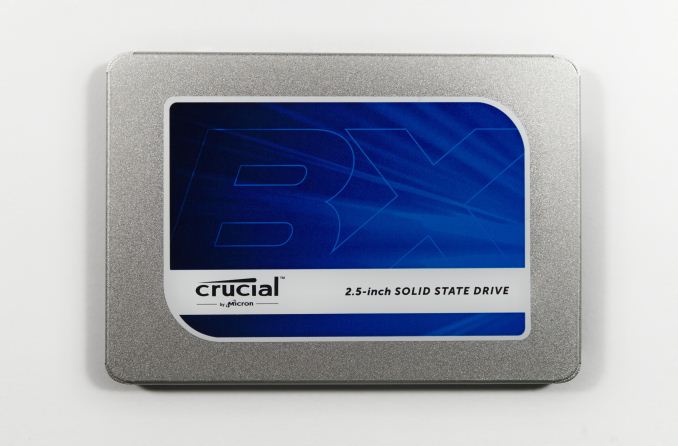 Some users are only interested in small SSDs, either because they know their storage needs are modest, or because they plan to keep the bulk of their data on a mechanical hard drive. Simply buying the cheapest SSDs that is large enough can be a bad idea: The smallest SSDs usually suffer from significantly worse pricing on a per-GB basis, and significantly lower performance due to having fewer flash chips to access in parallel.
This year, the 128GB capacity class is on its way out. 128GB is still enough space for an operating system and a reasonable number of applications and documents, but it fills up fast when used to store games, movies or photos. Our favorite SATA drives for the 240GB and up capacities are not manufactured in ~128GB versions, requiring a different recommendation. In this segment, we also assume that the drive is pretty likely to be used in a near-full state, which usually leads to reduced performance, but that effect is stronger for some drives than others.
Buy Crucial BX300 120GB on Amazon.com
| | | | |
| --- | --- | --- | --- |
|   | 120GB | 240-275GB | 480-525GB |
| Crucial BX300 | $59.99 (50¢/GB) | $87.99 (37¢/GB) | $144.99 (30¢/GB) |
| Crucial MX300 |   | $92.99 (34¢/GB) | $149.99 (29¢/GB) |
| ADATA SU800 | $56.67 (44¢/GB) | $91.99 (36¢/GB) | $158.60 (31¢/GB) |
The choice for this segment is very clear: the Crucial BX300 stands alone as a cheap but modern drive that doesn't compromise. With Micron 3D MLC NAND and a solid Silicon Motion SM2258 controller instead of a cheaper DRAMless controller, it doesn't fit the mold of a typical budget drive. It's only a few dollars more than the cheapest TLC SSDs, and is definitely worth paying extra for. At higher capacities, its price is less compelling.
NVMe SSDs
The market for consumer NVMe SSDs has broadened enough to be split into entry-level and high-end segments. This split will become clearer with the next generation of products as low-end PCIe 3 x2 SSD controllers make their debut, but even now there is a big difference between the Intel 600p and the Samsung 960 PRO.
Almost all consumer NVMe SSDs use the M.2 2280 form factor, but a handful are PCIe add-in cards. The heatsinks on many of the add-in cards tend to increase the price while making no meaningful difference to real-world performance, so our recommendation for NVMe SSDs are all M.2 form factor SSDs.
The latest generation 64-layer 3D NAND has not yet hit the retail NVMe SSD market. Samsung seems unlikely to deliver a replacement for their 960 PRO and 960 EVO before the end of the year. Toshiba's XG5 offers a tantalizing preview of what their 3D NAND can offer, but a retail version has not been announced. Western Digital/SanDisk have also not announced any consumer PCIe SSDs using 3D NAND yet. Intel's 64-layer 3D NAND available in one consumer SATA drive, but the rest of it is going to the enterprise SSD market for now.
Not much has changed recently with the controllers for NVMe SSDs, either. Marvell announced a minor update to their 88SS1093 controller earlier this year but it has not yet been used in any shipping products. Silicon Motion's new generation of NVMe controllers was previewed at Flash Memory Summit and it looks like they'll offer a much-needed performance improvement over the current SM2260 controller, but they're still months away from being ready for release. Drives using Phison's entry-level E8 controller will probably show up as soon as Toshiba's 64L 3D NAND is widely available, but no specific products have been announced. Their new high-end E12 controller is a bit further off.
High-end NVMe: Samsung 960 EVO and Samsung 960 PRO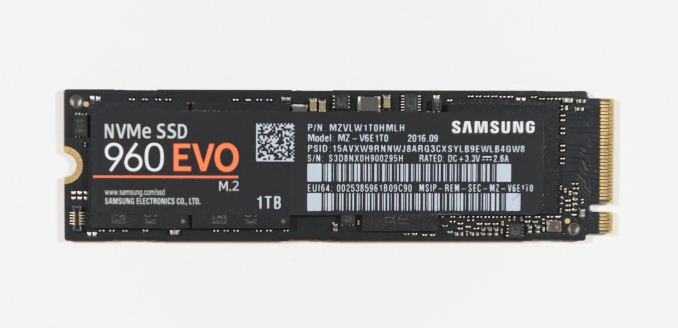 Unsurprisingly, Samsung continues to dominate at the high end. The 960 PRO is unchallenged, and even the 960 EVO's larger capacities can match or outperform most of the competition. The 960 PRO's performance advantage over a 960 EVO of the same capacity can look impressive in benchmark charts, but is not noticeable enough during real-world use to justify the price premium.

This high-end level of performance is currently hard to obtain from a 256GB-class drive: the 250GB 960 EVO is much slower than its larger siblings, and there isn't a 256GB 960 PRO. The closest alternative would be the OEM SM961 256GB, available from some retailers but without the warranty and support that Samsung's official retail products get.
Buy Samsung 960 EVO 500GB on Amazon.com
| | | | | |
| --- | --- | --- | --- | --- |
|   | 250GB | 500-512GB | 1TB | 2TB |
| Samsung 960 EVO | $116.99 (47¢/GB) | $234.00 (47¢/GB) | $467.00 (47¢/GB) |   |
| Samsung 960 Pro |   | $298.00 (58¢/GB) | $598.38 (58¢/GB) | $1204.99 (59¢/GB) |
Entry-level NVMe: MyDigitalSSD BPX, Intel 600p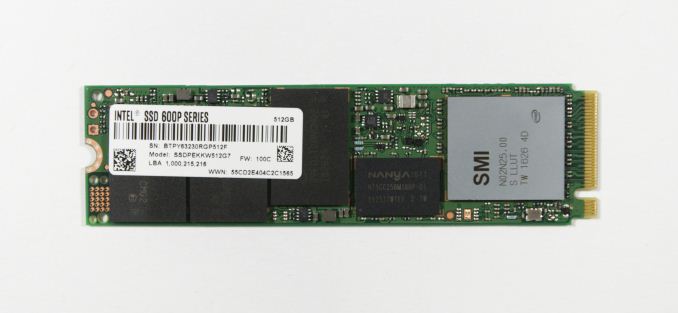 Drives using PCIe x2 controllers or the NVMe Host Memory Buffer feature have not yet hit the retail market, so the entry-level NVMe segment is mostly defined by the use of TLC NAND or planar MLC. These drives mostly fall into two categories: those using the Phison E7 controller with Toshiba 15nm MLC, or those using the Silicon Motion SM2260 controller with Intel/Micron 3D NAND. There are a few exceptions where drives using a Marvell controller are currently offering entry-level pricing.
Buy Intel SSD 600p 1TB on Newegg
| | | | | |
| --- | --- | --- | --- | --- |
|   | 120-128GB | 240-256GB | 480-512GB | 1TB |
| MyDigitalSSD BPX | $74.99 (62¢/GB) | $114.99 (48¢/GB) | $199.99 (42¢/GB) |   |
| Samsung 960 EVO |   | $116.99 (47¢/GB) | $234.00 (47¢/GB) | $467.00 (47¢/GB) |
| Intel SSD 600p | $106.25 (83¢/GB) | $165.59 (65¢/GB) | $199.99 (39¢/GB) | $319.99 (31¢/GB) |
The MyDigitalSSD BPX is usually one of the cheapest Phison E7 drives, and the 2.1 firmware revision it ships with is the preferred choice for real-world performance. At the moment, the BPX is by far the cheapest 120GB-class NVMe drive.  At the top end of the capacity range, Newegg's price on the 1TB Intel 600p is unbeatable. Yes, it's the slowest NVMe drive, but it's still faster than any SATA SSD on light workloads, and it's actually cheaper than a 1TB Samsung 850 EVO. In the 256GB class, the Samsung 960 EVO is one of the cheapest and fastest options, but for heavier workloads a Phison drive with MLC may be a better choice.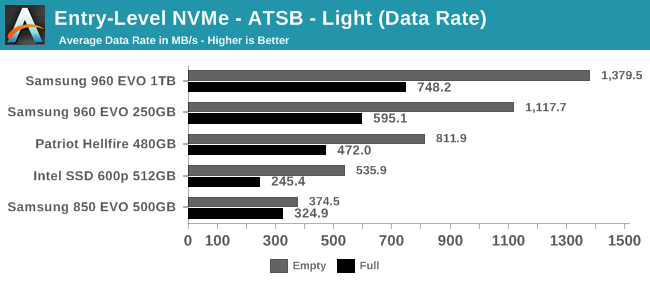 (Note that the above performance data for the Patriot Hellfire should be representative of the MyDigitalSSD BPX and any other Phison E7 drive with 2.1 firmware.)
M.2 SATA: Crucial MX300 and WD Blue 3D

For notebooks, M.2 SATA has almost completely replaced mSATA. A few notebooks are using the shorter M.2 2242 or 2260 sizes, but most support up to the 80mm length. There are far fewer M.2 SATA options than 2.5″ SATA options, but most of the current top SATA SSDs come in M.2 versions. There is currently little to no premium for the M.2 versions of these drives, so these recommendations are quite similar to the 2.5″ drive recommendations: at larger capacities, the low price and low power consumption of the Crucial MX300 make it the top choice. At the smallest capacity, the higher performance of the WD Blue 3D is worth paying a little bit more for.
Buy WD Blue 3D on Amazon.com
| | | | |
| --- | --- | --- | --- |
|   | 250-275GB | 500-525GB | 1TB |
| Samsung 850 EVO M.2 | $106.98 (43¢/GB) | $169.00 (34¢/GB) | $352.99 (35¢/GB) |
| Crucial MX300 M.2 | $92.99 (34¢/GB) | $149.99 (29¢/GB) | $287.99 (27¢/GB) |
| WD Blue 3D M.2 | $94.99 (38¢/GB) | $164.99 (33¢/GB) | $319.99 (32¢/GB) |
The post Best SSDs: Q3 2017 appeared first on Tech News Blogs.
Powered by WPeMatico